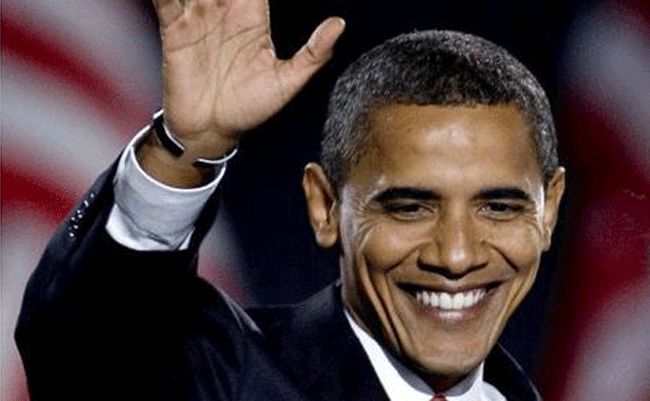 1. I'm the first president to ever tweet — @BarackObama. I have nearly 22 million followers!
2. I taught Sasha how to shoot a three-pointer.
3. I'm left-handed.
4. I'm a die-hard Chicago White Sox fan. When I threw out the first pitch at the Washington Nationals' home opener in 2010, I agreed to wear a Nationals jacket — but only with my White Sox hat.
5. At my direction, Bo has free rein in the West Wing.
6. I'll never forget my favorite teacher, Ms. Hefty, whom I had in fifth grade. Teachers are so important to preparing Americans for the jobs of the future.
7. My favorite campaign events are when I get to sit around someone's kitchen table and have a real conversation with them about the issues affecting their lives.
8. Homeland is my favorite TV show.
9. I was once bear-hugged by a Republican pizza shop owner inFlorida. I thought it was hilarious, but I'm not sure how the Secret Service felt about it.
10. A couple of the things I miss most about growing up inHawaii: bodysurfing and eating shaved ice.
11. One of the things people ask me about the most when I'm on the campaign trail is the White House Honey Ale beer recipe.
12. I've never missed a parent-teacher conference since becoming president.
13. I voted early inChicago. No matter who you're voting for, there's no reason to stay home and not make your voice heard in this election. Find out how you can vote early at GottaVote.com.
14. One of the most humbling moments as president is having the privilege of awarding the Medal of Honor to members of our armed forces who have distinguished themselves by going beyond the call of duty.
15. Apples are my favorite healthy snack. I always have a bowl of them in the Oval Office.
16. Every day, I read 10 letters from constituents across the country. This is important to me because it helps remind me of the people I'm fighting for on a daily basis.
17. My girls tease me about wearing my BlackBerry in a holster connected to my belt.
18. My favorite place in the White House is the Truman Balcony, which overlooks the South Lawn.
19. Malia and I read all of the Harry Potter books together.
20. My first car was my grandfather's car, a 1970 Ford Granada.
21. When we moved to the White House, the girls were pretty young, so we put a swing set outside of the Oval Office so I could watch them play after school.
22. Michelle and I have officially (and famously) been on a Kiss Cam. But our first kiss was outside of a Baskin-Robbins ice cream shoppe inChicago'sHyde Park.
23. When I work out, I like to listen to Jay-Z, Stevie Wonder and the Rolling Stones on my iPod.
24. Malia entered high school this year. I'm not looking forward to when she's old enough to go to prom.
25. One of my favorite memories from my time at the White House is when Sasha, Malia and I had a snowball fight on the South Lawn during Snowmageddon.