Ini­ti­ate a spon­ta­neous dance party. While you're cook­ing or going about other daily rit­u­als, turn up one of your shared favorite artists and start groov­ing. Even if he tries to rein in your silly side, the moment he comes over to curb your run­ning man can lead to a sweet, inti­mate hug and kiss.
Tease your guy with lit­tle prac­ti­cal jokes. Have an object, like a ridicu­lous fake plant, that he's given you a hard time about? Hide it around his place. Whether it's wait­ing for him in the fridge, the washer, or his computer's desk­top wall­pa­per, it's des­tined to deliver a gen­uine laugh.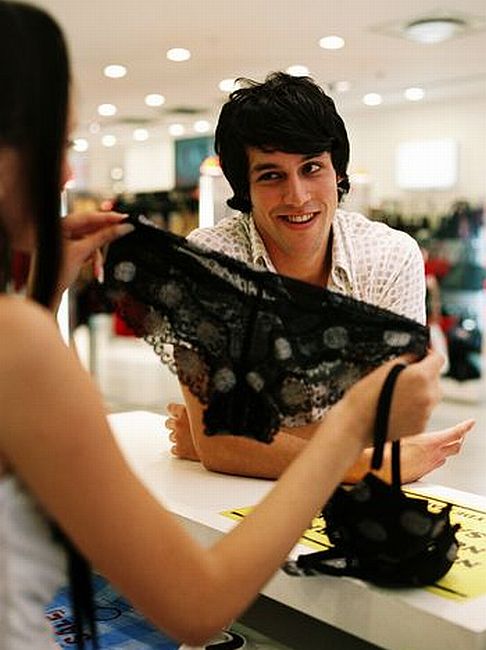 Though you'll be hard-pressed to find a guy that can't get enough of accom­pa­ny­ing his lady while shop­ping, you might notice a change in atti­tude if you invite him to stop into a lin­gerie shop—especially if he's given free rein to pick out some of his favorite under­things for you to model at home.
Write him a short, sexy mes­sage on a sticky note and stick it in an unex­pected place for him to find. When he opens his glasses case or starts his car, he'll have an unprompted reminder that you care.
Team up and take a cook­ing class at your favorite restau­rant. (Check out its cal­en­dar online; plenty offer var­i­ous cook­ing events.) You can tease each other's hor­rific chop­ping skills while pick­ing up some help­ful new tips. Later that week, try to recre­ate the meal together at home.
Break away from the dinner-and-movie pat­tern by opt­ing instead for a play date. Try one of your favorite old-school activ­i­ties, like hit­ting a roller rink, laser tag cen­ter or arcade. Cap it all off with an indul­gent meal from one of your fave child­hood eater­ies, like McDonald's.