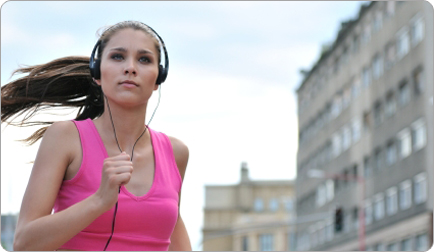 A newish category of fitness apps will double that adrenaline rush by helping you raise money for a cause while you pound the pavement. Coining the term for this breed of conscientious fitness fiends here and now: Philanthrofits! Here are five to try:
stickK
Developed by a team of Yale economists, stickK is the most amusing—and quite possibly the most effective—of the motivating charity apps. Here's why: If you don't reach your goal, your money goes to a charity you'd hate to support. Set a time frame and a goal, lay your money on the line (the site takes your credit card info upfront) and an organization that makes your skin crawl. Select a referee to keep tabs on your progress and honesty as well as a team of cheerleaders to post encouraging messages in your online journal. And if you hit your goal, you keep your moolah.
Charity Miles
This iPhone- and Android-friendly free app allows bikers to earn 10 cents per mile and walkers/runners 25 cents per mile for a handful of charities, including Habitat for Humanity, Feeding America and Autism Speaks. Just tap the app once you start exercising and it tracks your distance, and in turn, dollah bills earned.
Charity Bets
Peer pressure can be a good thing. Tell your friends and family you've set a performance and fundraising goal for a specific athletic event and encourage them to bet on the likelihood of your reaching it by pledging a donation. Once you've completed the event, fess up about your performance by recording it on the site.
Plus 3 Network
Eligible activities with the Plus 3 Network run the gamut from weight training to Zumba class to physical labor. (And no, sex doesn't count.) Verify your miles logged using a tracking device, and you'll get double the points. The site's corporate sponsors then convert your points into dollars donated to your charity of choice.
Run4Good
Created by Saucony, Run4Good tracks your miles and routes and fights childhood obesity all at the same time. Join the monthly community challenge to step up your game, and if the overall goal is reached, Saucony doubles its charitable contribution to the selected organization