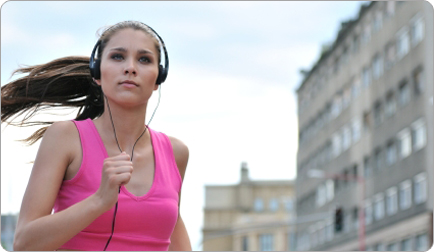 A newish cat­e­gory of fit­ness apps will dou­ble that adren­a­line rush by help­ing you raise money for a cause while you pound the pave­ment. Coin­ing the term for this breed of con­sci­en­tious fit­ness fiends here and now: Phil­an­throfits! Here are five to try:
stickK
Devel­oped by a team of Yale econ­o­mists, stickK is the most amusing—and quite pos­si­bly the most effective—of the moti­vat­ing char­ity apps. Here's why: If you don't reach your goal, your money goes to a char­ity you'd hate to sup­port. Set a time frame and a goal, lay your money on the line (the site takes your credit card info upfront) and an orga­ni­za­tion that makes your skin crawl. Select a ref­eree to keep tabs on your progress and hon­esty as well as a team of cheer­lead­ers to post encour­ag­ing mes­sages in your online jour­nal. And if you hit your goal, you keep your moolah.
Char­ity Miles
This iPhone– and Android-friendly free app allows bik­ers to earn 10 cents per mile and walkers/runners 25 cents per mile for a hand­ful of char­i­ties, includ­ing Habi­tat for Human­ity, Feed­ing Amer­ica and Autism Speaks. Just tap the app once you start exer­cis­ing and it tracks your dis­tance, and in turn, dol­lah bills earned.
Char­ity Bets
Peer pres­sure can be a good thing. Tell your friends and fam­ily you've set a per­for­mance and fundrais­ing goal for a spe­cific ath­letic event and encour­age them to bet on the like­li­hood of your reach­ing it by pledg­ing a dona­tion. Once you've com­pleted the event, fess up about your per­for­mance by record­ing it on the site.
Plus 3 Net­work
Eli­gi­ble activ­i­ties with the Plus 3 Net­work run the gamut from weight train­ing to Zumba class to phys­i­cal labor. (And no, sex doesn't count.) Ver­ify your miles logged using a track­ing device, and you'll get dou­ble the points. The site's cor­po­rate spon­sors then con­vert your points into dol­lars donated to your char­ity of choice.
Run4Good
Cre­ated by Saucony, Run4Good tracks your miles and routes and fights child­hood obe­sity all at the same time. Join the monthly com­mu­nity chal­lenge to step up your game, and if the over­all goal is reached, Saucony dou­bles its char­i­ta­ble con­tri­bu­tion to the selected organization